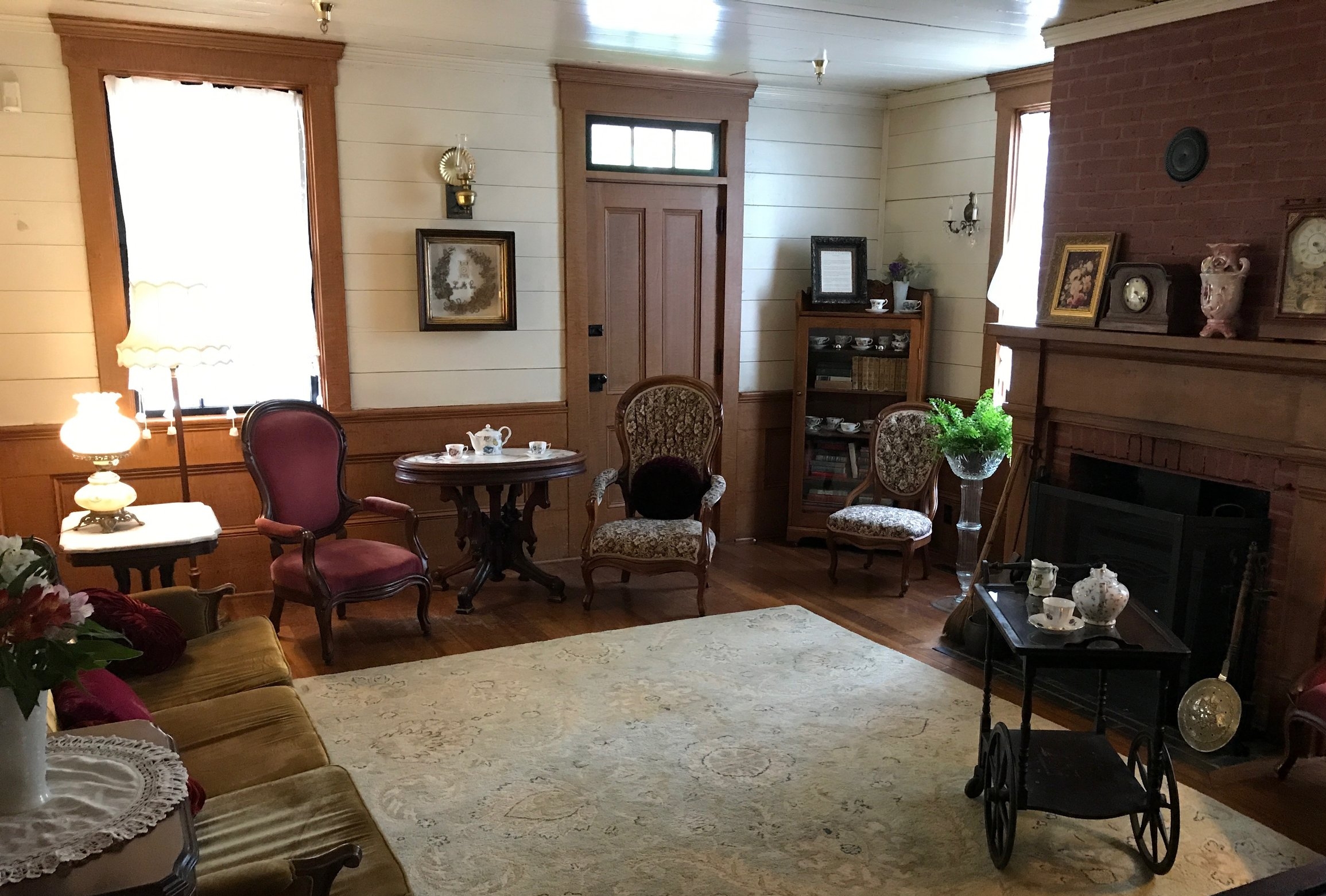 Yes. clark gable
slept here.
The walls tell stories - come listen.
this place is something special
Imagine yourself as a traveler along a section of the Applegate Trail in the late 1800's. You have just arrived by stage coach at the Wolf Creek Inn. This is a long-sought-after refuge from a not-so-comfortable journey over mountains and across valleys. After paying 75 cents for a room, bath, and meals, you're ready to relax. You sit down to a good meal and some easy conversation with the innkeepers or other guests. Afterwards, the men sidle off to the tap room for some quaffs of beer while the ladies adjourn to the parlor. The conversation drifts from tales of inspirational beauty to frightful experiences of the trail.
The rooms are no longer 75 cents, but the refuge is still here preserved in its original state. The Inn is a great place to stopover when traveling the I-5 through Oregon yet remains well off the beaten track. We invite you to indulge in the history that once was and have the feeling of taking a step back in time while staying at the inn, which is on the National Register of Historic Places.
MURDER MYSTERY PARTY
Price includes dinner and a chance to be in an interactive Murder Mystery event. You will be a character in the show! No experience required, except the desire to have fun.
You will be fully participating in the Event. This is NOT a Play. We will be sending you all the info for their character. You will also be expected to put together some sort of costume that's fits your character. Get CREATIVE!
In front of the Inn, you'll find interpretive panels depicting life on the Applegate Trail. The inside of the building is open to public for Ranger-guided tours and self-guided tours while it is also a fully functioning Inn with 9 guest rooms and two Bunk rooms.
The Tavern is open for breakfast, lunch and dinner Wednesday-Sunday. We have a stellar menu serving good old fashioned homemade Southern Comfort food. Including the BEST BBQ in Oregon, not kidding! Everyone is invited to learn more about the history and view a building that has served guests since 1883!
We have a wonderful Dinner Theater throughout the year. Please visit the EVENTS section for more information. Make your reservations today, they sell out quick!
A few months ago a Japanese TV show show approached us about filming at the Inn.
What follows is amazing and completely confusing. I love it!
SUNDAY BRUNCH
Back by popular demand we present "The Inn's Sunday Brunch". Take a drive to the beautiful Historic Wolf Creek Inn and dive into our Brunch. Brunch is served from 10am-2pm. The cost is $18 for adults and $8 kids 15 and under. One FREE Mimosa or Bloody Mary. One kitchen plate per customer - Never Ending Buffet!
Live music by RICK KINCADE
Do you like mysteries? Have you always wanted to be a sleuth? Do you like wearing costumes? Would you like to be an actual character a murder mystery? If you answered yes to any of these questions, then this is the event for you and no prior experience is necessary!
we get busy folks.
Wednesday - Sunday (8am-8pm)
Restaurant Reservations online for Breakfast, Lunch and Dinner ( Psst… Click Below ).
tours will resume april 2019
(541)866-2474
Enjoy a tour of The Historic Wolf Creek Inn every day at 11:30 AM. Learn about the history of Wolf Creek and this beautiful building. Grab some lunch afterwards in our Tavern offering up excellent homemade food from scratch.
paranormal tours
We are proud to now be offering Paranormal Tours of the Historic Wolf Creek Inn. Wolf Creek has been seen on the Travel Channel's "Ghost Adventures" and many other TV shows - and counting! We have partnered with the professional mediums from Star Journey Tours and Jefferson State Paranormal to offer guided tours of the Inn. Only our hand picked Mediums are authorized to perform tours at the Inn.
TOURS WITH JEFFERSON STATE PARANORMAL
Lisa and Nick offer a unique 3 hour adventure. These two love their investigative equipment. Part of their tour is teaching you how to effectively use your EMF meters, Mel meters and full spectrum cameras.
tour is $149 per person (must include overnight lodging which is a separate chARGE , call us to book your room 541-866-2474)
CALL/TEXT NICK AND LISA : 541-301-3983
TOURS WITH FRANCHESCA
Franchesca is a professional Medium who offers an excellent Paranormal experience. She's been keeping things interesting at Wolf Creek for about a year now. Contact Franchesca at: (702)901-9488 (text/voice)
tour is $149 per person (must include overnight lodging which is a separate chARGE , call us to book your room 541-866-2474)
CALL/TEXT FRANCHESCA : 702-901-9488